Client Stories and Testimonials
We're dedicated to enhancing the quality of life, dignity and independence of all our clients. Read through our stories and testimonials to see how we have gone above and beyond to deliver a positive experience to the lives of our clients and caregivers.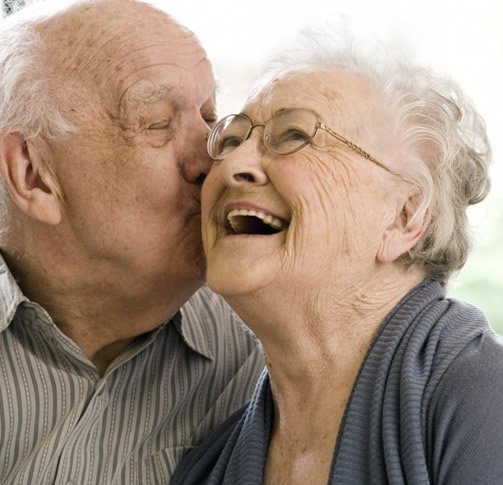 It is hard to imagine that it's been almost 5 months since Mom and Dad were able to re-establish their independence!
It is hard to imagine that it's been almost 5 months since Mom and Dad were able to re-establish their independence! Believe me, there are many days when I revisit how fortunate I was to have you on the other end of my emails! And while the expense was unsustainable for them in the long run, you and your staff helped to get us us out of a very precarious situation.
I am happy to report, Mom is in great shape! She still has the very occasional fall but her consulting physician attributes that more to her dementia difficulties than any chronic problem. (i.e., she can 'forget' she is standing.) And the good news is that she is strong enough now to even get herself up!!! But the great news is that she is not only physically stronger now, her dementia has lessened a significant amount because she is no longer on a lot of 'hurtful' drugs. We recently celebrated the holidays together and it was a wonderful time. Mom and dad were both really excited and enjoyed the celebrations for well over 5 hours – even with 2 little guys running around! Thank you for all that you do!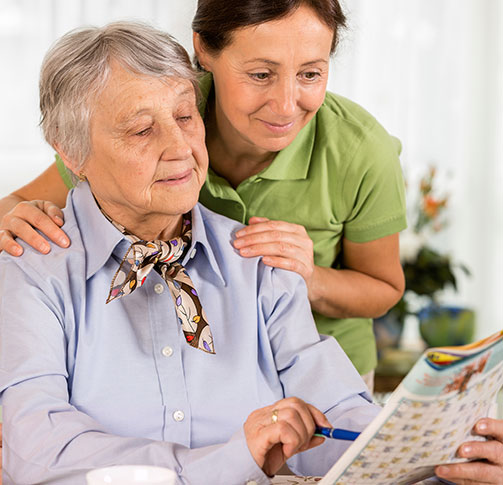 Bayshore has helped us to keep Mum safe.
Bayshore helped my brother and I to develop a support team for my Mum who has vascular dementia and wants to stay in her own home.  Her level of anxiety and aggression rose dramatically when we started to talk about moving her to another environment.  We wanted Mum to be happy and safe where she wanted to live the rest of her life – at home.  So Bayshore included us in the selection of our PSWs who work with Mum to keep her engaged in daily activities, keep her independent and safe at home.  They are our support system.  Without them, Mum wouldn't have lived as long as she has, nor would have been as happy as she is being at home.  They have dramatically reduced the level of stress that my brother and I had to deal with before, and we now know that she is being cared for in the way that she wants. Now we don't have to worry. It has been Bayshore who has supported us through the process of establishing a plan and helped us set priorities as a family.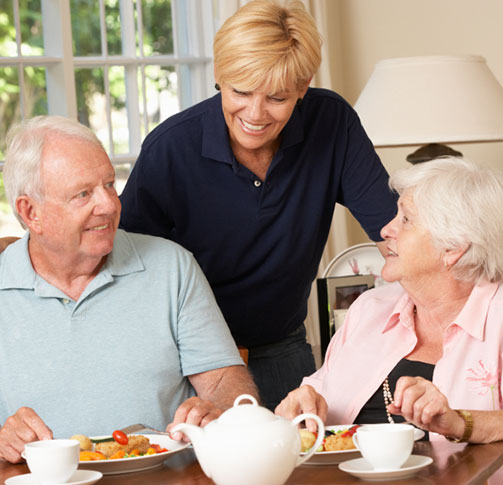 I called Bayshore for assistance after my fall last year.
I called Bayshore for assistance after my fall last year. I fell on black ice and broke three ribs! After they sent my caregiver Giselle, we knew we didn't need to look any further – she cleans my whole house expertly. If I was asked to recommend Bayshore, I'd do so without a doubt.
He deserved to be at home and comfortable.
My father wanted to remain in his home but was unable to safely care for himself. The Personal Support Workers from Bayshore helped him with showering and getting dressed while also assisting with meal preparation and laundry. They were his companions – he would have been alone otherwise and unable to socialize with others. I work which makes it difficult to always be there for him, and he deserved to be at home where he's most comfortable. I'd recommend Bayshore services to others like me, especially those who are trying to help their parent remain in their own home.
Our nurse was very professional and when she finally had a chance to see the wound on my Mom's leg, she stepped right into action and accompanied us to the ER Pasqua Hospital to act as our advocate, after taking a picture of the wound and sending it to her supervisor. Being an RN, our nurse realized how infected and smelly the wound was and figured action should be taken, after all my previous ER attempts had not produced favorable results. This lady went above and beyond her duties and her assistance was truly appreciated.
Regina
I wanted to let you know that my mom passed away last night at the Pasqua Hospital. My family would like to thank the Bayshore Personal care givers for their care and compassion during the last six months.
The goal was no falls or broke bones. I am so grateful that we were able to ensure Mom's safety. I would let it acknowledge the wonderful care of Verna B.  She was mom's favorite.
Could you pass this message on to her.
Lori E. Regina
I would like to express our deepest appreciation to all of you for your dedication & kindness to Mom in the last number of years.  We are especially grateful to Cindy, who tenderly cared for Mom in her last days.  Thank you to all of you.
Finally, thank you so much for the card of sympathy.
Colleen V Regina
We have been extremely happy with the care and attention your team has provided for my mom. I am so glad we made the change when we did. I feel like mom has come a long way towards having a more stable quality of life than even a few weeks ago and my brother and I no doubt appreciate that we don't have to stop our lives every time there is a concern or issue with mom. Keep up the good work.
Chris H Saskatoon, SK
Bayshore has been extremely helpful and accommodating with our family since my father has been diagnosed with Alzheimer's. The staff and case coordinators have been professional, courteous, and knowledgeable at all times. Every request that I have had has been fulfilled.
Bayshore has brought my family peace of mind at a time of confusion and distress. Knowing that we have Bayshore available to help takes some of the pressure off a very stressful situation.
I cannot thank Bayshore and their staff enough for everything they have done and continue to do for my family. I highly recommend Bayshore to anyone looking for home care services.
Donna F. Sarnia, ON
Mom is very independent and I don't want her to lose that. Assured Living helps her to be independent
I am so thankful for the invaluable  respite service that Bayshore Home Health has provided for our family for the past fifteen years.  The staff are consistent, available, efficient and friendly.  Training is excellent  and knowing that there is always a reliable back up plan provides peace of mind that is so very necessary to true respite.  I could not imagine a better company to deal with.  Thank you Bayshore!
We would like to thank you for the excellent service and care received from Bayshore after my husband's surgery. The nurses who came did their job very professionally. They were friendly, and made us feel very comfortable. We only have good things to say about the service, and we don't know what we would have done without it.
Wife of Client Sudbury, ON
I just wanted to thank your company for the excellent service that was provided recently for my wife. She was at home recovering from knee-replacement surgery, and we had a nurse and personal support worker for a few weeks. The professionalism exhibited by everyone we had any contact with was excellent! My wife is now recovering, but I wanted to let you know how pleased we were with the service provided, and we will strongly recommend Bayshore HealthCare to all our friends and family.
Billy W. Toronto, ON
My caregiver was very friendly and competent – their assurance made me feel at ease. They made me feel like I was valued, and that taking care of me wasn't a job. I was very satisfied with everything!
Client in Barrie, ON
The medications were received in time. The family were in attendance and felt very comforted with how peaceful it all went.
Dr. B
From early October 2017 until mid December, we required the services of Bayshore Home Health and I cannot say enough about the professionalism and caring of the home care workers that were sent –always on time and willing to do anything to help my wife through some very stressful times. A special note of thanks to your scheduler Lucia – she is a major asset to your operation. We found the homecare workers to be wonderful and would recommend Bayshore to anyone that needs your type of service.
Bob & Annie Client in Victoria, BC
My mother received excellent care. Bayshore always accommodated my mother, especially when finding specific caregivers that speak the same language as my mother.
Rosetta B. GTA, ON
Thank you to everyone at Bayshore. You made my life livable!
Nancy K. Whitby, ON
My husband is a client of Bayshore, and the people who come out to care for him are very nice and take good care of him. They explain everything to me, and this allows us to stay in our home with the support of Bayshore!
Wife of Client in Sault Ste. Marie, ON
My ill husband has had the pleasure of having your awesome staff come to our home to care for him. They are all so friendly and very compassionate, and extremely diligent. They never hesitate when I call with a problem.
Wife of Client in Hamilton, ON
Thank you for working so hard to find nurses who will attend to my husband. His health situation is difficult, and we appreciate your capable and qualified care.
Daria H., Montreal, QC
The logistics of self-care with two broken arms was overwhelming. Home care has helped me get through the crisis! I was grateful for the social interaction as well as the practical aspects of bathing, cleaning my teeth and dressing.
Client in Brockville, ON
I am the caregiver for my husband who has Parkinson's. Bayshore was contacted to help ease my total responsibilities. The two Bayshore caregivers we have are excellent!
Wife of Client in Moncton, NB
My husband passed away here at home. I wanted to thank you for the efficient, caring service given to him and me. I was so glad we could keep him at home and comfortable. I was also supported mentally, physically and emotionally throughout this traumatic experience.
Client in Barrie, ON
Very satisfied with everything. All the exercises help me a lot. I wouldn't be able to walk if it wasn't for my caregiver's help.
Client from Hamilton, ON
My husband and I were treated so well. I can't say enough.
Wife of Client in Sarnia, ON
I have had many surgeries and home care delivered to me in Ottawa. The Bayshore nurse I had was by far was the most exceptional and skilled nurse I have ever had!
Client in Sudbury, ON
We are confident leaving mother in Bayshore's quality care! They deliver wonderful service with a personal touch!
Barbara S. Kelowna, BC
Bayshore understood my plea for help for my sick mother at 4:50 pm on a Friday night and they arranged to have a home nurse by the next day!
Judy A. Vancouver, BC
My family and I would like to express our gratitude for all the help and support we have received over the years with our mom and dad. The Bayshore staff were competent, compassionate, and always made us feel that our parents were in safe hands.
Daughter of Clients in Hamilton, ON
This care was a unique experience as I'm not sure a few checkmarks will adequately express our family's profound thankfulness for the genuine care and respect and love shown to my sister and to all of her family. I cannot praise highly enough the managers who went above any beyond their duties administratively to call for my sister when it was difficult to find a caregiver overnight.
Client in Smiths Falls, ON
All of my Bayshore caregivers were attentive to my personal and physical needs, especially my safety at all times. They worked hard on all household chores and ensured that I always had everything that I needed. I was always treated with a high degree of respect. I have only praise for your staff!
Cathy M. Owen Sound, ON
I have had many surgeries and home care delivered to me in Ottawa. The Bayshore nurse I had was by far was the most exceptional and skilled nurse I have ever had!
Client in Sudbury, ON
Bayshore helped me with my wife for many years. You always made my wife feel like you were part of our family.
Thank you!
Client from Edmonton, AB
I have been attending the exercise program for six weeks. Amanda Rizzuto, our instructor is pleasant and very knowledgeable. She leads a class professionally and should be commended for the fine job she does each session! Thanks Amanda. We exercise body parts from head to toe. We've learned about the importance of exercise and keeping fit in the educational component. On behalf of my "classmates", I thank whoever conceived the idea for these classes. My hope is that such classes can continue to benefit all stakeholders.
Monica Mississauga Seventh Day Adventist Church
I think this is a great program because it helps improve my flexibility, strength, and endurance. I really enjoy the free weights and resistance bands that we use as it helps me with my range of motion. I find that this program activates all the muscles that I wouldn't normally do in other activities. I can see a noticeable improvement with my mobility. Thank you for having such a great program for seniors.
Martin Resident from Chartwell Regency Retirement
The falls prevention classes have helped me greatly in reducing my risk of fall after my stroke. They have helped me to walk again on my feet through improved balance and gait assessments. I have become more aware of my body and balance. If I miss the class I notice I'm not as flexible.
Ivy Chung Resident of PSL Hillside
Live an independent lifestyle with support when you need it
Sarah McClaren Vancouver, BC
Caring, kind, compassionate and personable.
Gloria W. Windsor
The caregivers were always cheerful and respectful. Prompt service, patient and informative. All medical care should be like this!
Calon W. GTA
I am more than fully satisfied with the excellent service provided so carefully and so sincerely by each and every care giver.
Habib M. Calgary
Excellent care for my husband and support for me! I am very grateful for everything. The staff made me fell prepared for my husband's death.
Wellington, Ontario
My coordinator is very professional. My mother has Alzheimer's with paranoia and she has been very understanding as her care is so complex.
Wellington, Ontario
The PSW was an angel for our mother
Toronto
Your caregiver was intelligent, engaging and just wonderful.
Jetta Toronto
Staff were personable, professional and very competent
Leila Toronto
The service has been excellent. The service is excellent and unique and my mother is happy with someone coming in to help her shower and do things that she can't do herself. And the fact that it's the same person that she has is fairly consistent, that she's gotten to know and trust is important.
Burnaby, BC
I am extremely thankful for the help I receive. I can carry on with my life at 90 and my spirit is lifted with the service I receive. I am extremely grateful that the service is available.
Burnaby, BC
The care workers that come to give me personal care are outstanding; they are exceptionally courteous and efficient.
Burnaby, BC
Thank you for the excellent care you gave my husband while he was a client. I appreciate everything you did for him, and I was so pleased to be able to keep him at home during his illness.
Wife of Client in Cornwall, ON
My mom's nurse was excellent – very caring, knowledgeable and efficient. I don't know what I'd do without her!
Son of Client in Sudbury, ON
Your care and concern enabled me to keep my husband at home until the end. We were very impressed with your services and access to medical equipment that kept him at home longer.
Wife of Client in Smiths Falls, ON
My dad received excellent care from his Bayshore nurses. This helped both him and me stay confident keeping him at home.
Client in Barrie, ON
My mom's dementia started escalating in May 2013 and in order to help her, I engaged Bayshore for Companionship services. Our caregiver was exceptional in her assistance accommodating my last minute requests.
Daughter of Client in Pembroke, ON