Bayshore Home Care Solutions – GTA, ON
Services are available 24 hours a day, 7 days a week, through government funded programs
Our services include:
Personal Care Services
Medical Services
Dementia Care Services
Congratulations to Yasmin Rizzi on receiving the Hospice Dufferin Palliative Care Award
It's tough to put into words what a caring, compassionate nurse Yasmin Rizzo is. Yasmin provides palliative care in Dufferin County, and is deeply devoted to getting to know each patient she cares for, ensuring she is focused on what is important to them.
As this year's winner for the Hospice Dufferin Palliative Care Award, Yasmin as been recognized for her dedication and leadership as well as for advocating for quality care within Hospice Palliative Care. Congratulations Yasmin. You are deeply deserving of this recognition and we are proud to work with you.
See more pictures and messages of congratulations here.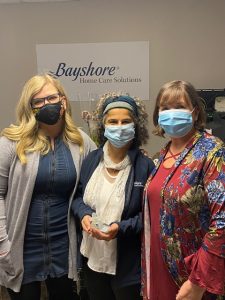 Meet our team
Brandon Douglas, Area Director, is an integral part of the Bayshore care team who will assess your needs, provide personalized care plans and offer support in navigating the healthcare system.
Job Postings
Forward resumes to: gta@bayshore.ca
Giving Back
Our Local Charity Partner:
Canadian Mental Health Association – Toronto Branch
The Canadian Mental Health Association (CMHA) facilitates access to the resources people require to maintain and improve mental health and community integration, build resilience, and support recovery from mental illness. Each year, CMHA provides services and supports to more than 1.3 million Canadians across Canada.
Each Bayshore branch gives back to the local community by supporting a local charity partner through the Bayshore Foundation for Empowered Living. The Bayshore Foundation helps Canadians who are experiencing aging, illness or injury to take control of their independence. Every dollar raised in a community stays in that community. All donations from individual donors will be match 50% by the Bayshore Foundation.
"Felt that my care was being done by well trained, competent and caring people. Changing of dressings always professionally done with good technique. I am very grateful and satisfied with my care."
About this location
At Bayshore Home Care Solutions, we want to provide the best home care for you or your loves ones – with less stress and worry. Our GTA branch is here to look after all your home care needs.
About Bayshore
Bayshore HealthCare is one of the country's leading providers of home and community healthcare services and is a Canadian-owned company. With over 100 locations across the country, including 65 home care offices, 13 pharmacies and 90+ clinics, Bayshore has more than 13,500 staff members and provides care to over 350,000 clients.
Learn More