The power of a routine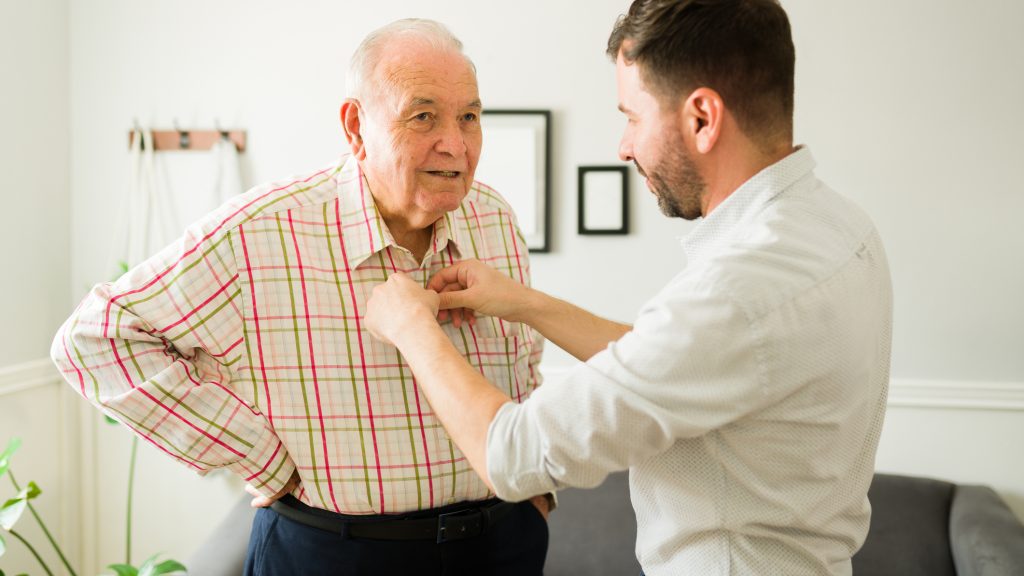 The power of a routine
As a caregiver, it may be challenging trying to balance your work, your caregiving responsibilities, and your own health and personal life. A good first step to help you manage your own life and caregiving responsibilities is to develop a consistent daily routine for your older adult.
What are caregiving routines?
A routine is doing the same basic activities around the same time every day. This gives structure and a natural flow to the day.
For example, part of a regular daily routine for your loved one might be to wake up at 8am, use the toilet, brush teeth, and comb hair. Then, change from pajamas to regular clothes and sit down for a hot breakfast of oatmeal, apples, and tea. Afternoons might be a good time for puzzles or household tasks.
It's a good idea to experiment with creating a daily routine that works for you and your older adult. Start with the timing and activities you think work best and adjust as needed.
Benefits of a routine
Daily routines can reduce uncertainty and decision-making, thereby taking some of the stress off both you and your loved one. Sticking to a routine might also free up some time and mental space so you can take breaks and take care of yourself.
Here are some ways a routine can help your loved one feel better, which in turn, helps you feel better:
Increased safety and security.  Seniors who can control the unknown and unexpected feel more safe and secure. Seniors with dementia or Alzheimer's feel more secure when their days and lives are organized.
Reduced stress and anxiety.  A predictable daily routine can help seniors mentally prepare for the day. This will significantly reduce the stress and anxiety they feel.
Improves overall health.  Seniors who worry and feel anxious for prolonged periods of time heal more slowly than others, get sick more often and don't sleep well. A routine helps reduce worry and improves a senior's overall quality of life.
Daily routine components
Coming up with a finalized daily routine requires some fine-tuning before you get it right, so don't feel frustrated if the first one doesn't work.
When putting together a daily schedule, consider these components:
Waking up and going to bed
Getting dressed in the morning
Toileting
Exercising
Medication taking
Pet care
Don't forget to plan for weekly or monthly tasks, such as:
Food shopping and running errands
Attending social activities
Laundry
Yardwork
Paying bills
Medical appointments
Although following a simple daily routine can boost your senior's health and well-being, remember to stay flexible. There will be days when they aren't feeling well, or need to attend appointments or special events. Other times, it's you who may need to take a break or are otherwise unavailable. If your routine doesn't carry out the same way every day, that's okay.
How to maintain a routine
Having a routine can make you and your loved one feel more prepared for the day ahead. These tips can help keep a routine in place:
Decide what needs to be in your routine. Does your senior need more exercise? Prioritizing what is important before starting is key.
Be consistent with time. If you want to schedule a daily walk, attempt it at the same time every day.
Be prepared. When carrying out tasks, make sure you have all the pieces before you start. For example, if your loved one would like help cleaning the house every Saturday morning, make sure the vacuum cleaner is working properly and all the cleaning materials are handy.
When developing a routine, start with one week at a time and start small—that way you can build on simple accomplishments. Write it all out on a calendar, like appointments.
In the end, developing a routine can reduce stress for both you and your loved one, make it easier for both of you to get everything done, and help you manage your own life.
We understand that caring for older loved ones can be a lot of work and you may need support. Bayshore Home Health offers a wide range of home care services to help Canadians live independently for as long as possible. Contact us at 1-877-289-3997 for details.