Tips for family caregivers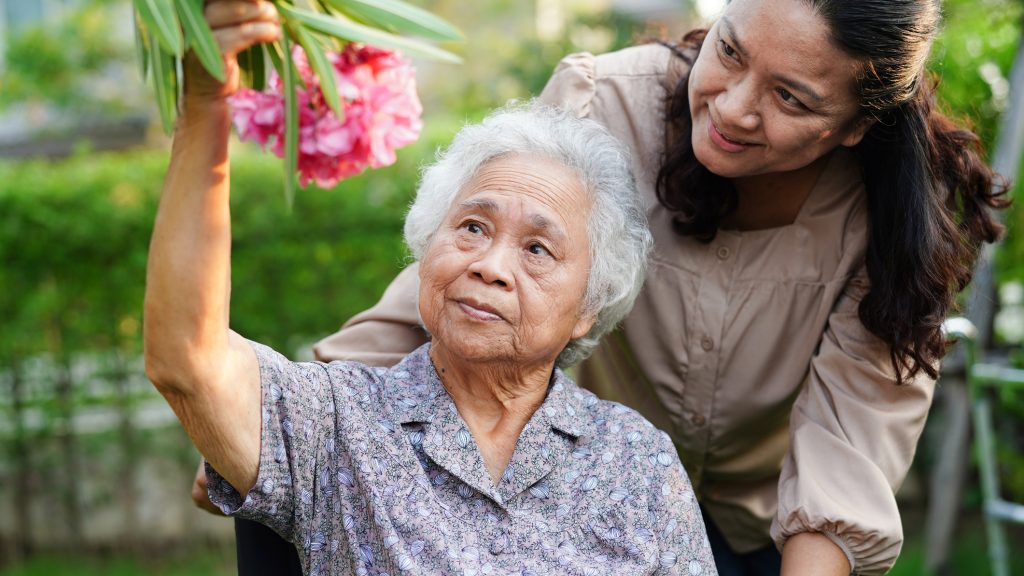 Tips for family caregivers
Caring for your senior loved ones at home can be very rewarding. But the responsibilities can be, at times, overwhelming. If you're a caregiver, it's important to also look after your own mental and emotional wellbeing.
What is a caregiver?
A caregiver is anyone who provides care for another person. Caregivers can help relieve burdens and support others who are in need. They may help for a long time or just a short time, but their care is always important.
To make sure you give your loved ones the best care, it's important to also take care of yourself.
Top 10 tips for caregivers
Here are some tips to help your loved ones live as independently and as healthy as possible, while also maintaining your own life and mental wellness.
Keep them socially active—Help your older loved ones play an active role in their family and their community. Isolation can be a major cause of emotional distress for older people.
Keep updated on technology

—Caring for seniors can be made more convenient by easy-to-use technologies, like conducting virtual appointments with their doctors. Or you may even look into advanced technologies, like using safety monitoring systems connected to a coordinated care network.

Be realistic about how much care you can provide without harming your own health

—Figure out what you can handle on your own, and what tasks you need help with. Keep in mind that if you take on too much, you may eventually burn out or develop a serious health condition, which could leave you unable to care for anyone.

Get help with caregiving—

If you need help, get it! Finding help takes patience, effort, and creative thinking. But it will be worth it when you're able to decrease your workload, reduce stress, and take regular breaks. You could get help in ways, such as enrolling your loved one in a day program, or hiring

in-home caregiving

so you can get some rest.

Maintain a routine

— Daily routines can reduce uncertainty and decision-making, thereby decreasing overall stress for both you and your loved one. Sticking to a routine might also free up some time and mental space so you can take breaks and take care of yourself. Read our

The Power of a Routine
Take care of yourself—Recognize that taking care of a loved one comes with challenges. Make use of resources to help you deal with those challenges, like online support groups, spending time away from your loved one, or enjoying rejuvenating activities to relived stress and tension.
Educate yourself—keep up-to-date with new innovations in elder care and best practices in long-term care. New information may help make your tasks easier.
Create a safe environment for your seniors—Safe environments for seniors encourage their independence and reduce the chances of injury. Look at installing items such as:

Grab bars or railings in bathrooms, hallways, and other living areas
Shower seats or elevated toilet seats
Ramps or stair climbers

Keep seniors involved in their care decisions as much as possible—

If your loved one feels that other people are making all their choices for them, they may be more resistant to receiving help. To help them feel more independent and in control of their situation, communicate openly and honestly with them and ask them for their input and opinions about any care options you are considering.

Get moving

—To help keep your loved ones healthy and happy, encourage physical activity into their daily lives. Look for enjoyable activities that you can do together, like going on nature walks or working in the garden. Be sure to talk to their doctor or a physical therapist about what types and amount of physical activity they can do safely. Those who are unable to exercise independently can still benefit from passive range of motion exercises to help them maintain joint mobility.
Senior care is probably one of the toughest and most stressful jobs you'll ever have. Pacing yourself and getting assistance helps you stay as healthy as possible so you can continue providing great care.
We understand that caring for older loved ones can be a lot of work and you may need support.
Bayshore Home Health offers a wide range of home care services to help Canadians live independently for as long as possible. Contact us at 1-877-289-3997 for details.