Safety First: How to Prevent Falls Among Seniors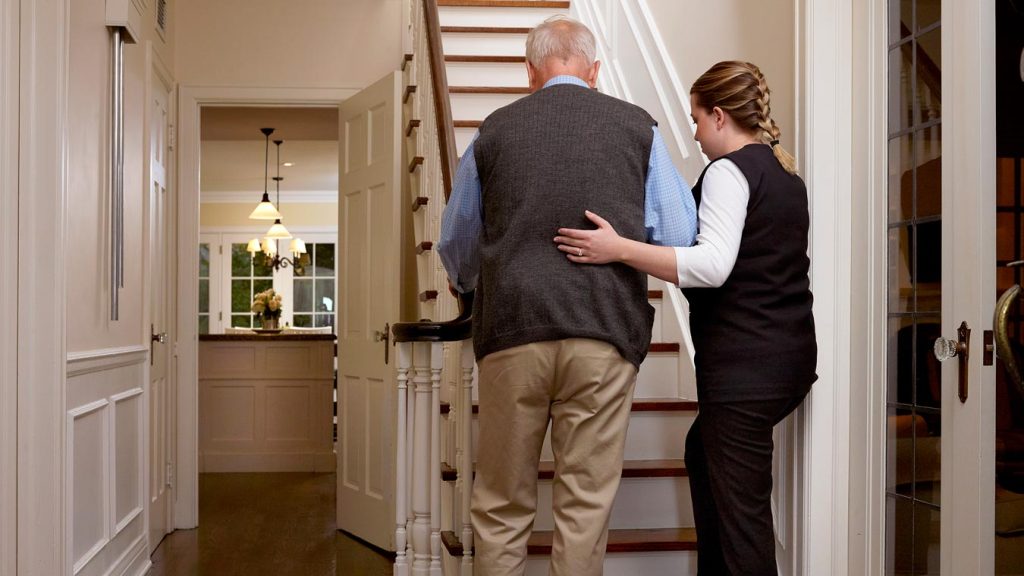 Safety First: How to Prevent Falls Among Seniors
Welcome back to our Colours Campaign, a special series about harnessing the transformative power of colour. This month, we're embracing the sturdiness and stability of BROWN – the perfect colour to represent our latest topic: fall prevention. November is Fall Prevention Month, and we encourage all Canadians to take action to reduce the risk of falls.
The health impacts of falls
Falls are a major health and safety issue for Canada's seniors. Each year, one in three older adults will suffer a fall, and half of them will fall more than once, reports the Public Health Agency of Canada.
For seniors, falls are the number one cause of injury-related hospitalizations. In addition to causing minor and major injuries – including bruises, sprains, bone fractures and head injuries – falls can have lasting, life-altering effects: more than a third of older adults who experience a fall are admitted to long-term care.
Risk factors for falls
What makes seniors more likely to fall? These factors increase a person's risk:
Age: the risk of falls increases as we get older
Previous falls
Lack of physical activity
Reduced bone and muscle strength
Poor balance or gait problems
Vision and/or hearing impairment
Cognitive conditions
Medical conditions or treatments that cause fatigue, weakness, dizziness, impaired balance or mobility problems
Chronic foot problems
Poor nutrition or skipping meals
Getting up at night to use the bathroom
Excessive alcohol intake
Living alone
Footwear and clothing that interfere with movement
Unsafe conditions inside or outside the home, including ice and snow
Not using ambulatory aids such as walkers or canes when needed
Not using safety aids such as glasses or hearing aids when needed
Lack of safety and mobility aids, such as grab bars and railings
Preventing falls
Falls are preventable, and there are many things that older adults and their families can do to minimize the risk. Here are several ways for seniors to improve their safety:
Maintain or improve muscle strength and bone health
Maintain or improve range of motion and balance (through exercise and physiotherapy)
Manage any medical conditions, such as diabetes or heart disease
Have annual eye checkups to detect vision problems, such as glaucoma or macular degeneration, and hearing tests
Discussing medication side effects (such as drowsiness, dizziness or muscle weakness) with a physician or pharmacist
Use safety aids and mobility aids if needed
Eat a nutritious diet to maintain optimal health and vitality
Get sufficient sleep each night to prevent fatigue
Wear supportive, well-fitting footwear with non-slip soles at all times
Avoid wearing loose-fitting, long clothing that could cause tripping or interfere with mobility
Get up slowly, get your balance and then walk slowly
Avoiding rushing and hasty movements
Avoiding carrying too many objects or heavy objects that could compromise balance
In addition, most seniors' falls occur in their own homes, so it's important to identify and remove any hazards both inside and outside the home, including
Tripping hazards such as rugs, cords, furniture and pets
Slippery or uneven floors, hallways or walkways
Poor lighting in hallways, stairs or entrances
General disrepair
Reaching for objects on high shelves or in cabinets
The list below is a good starting point for improving home safety:
Remove tripping hazards and clutter anywhere people walk
Ensure there is good lighting around the home, including bathrooms, hallways and stairs
Install railings along stairs (even for short flights), and consider adding railings to hallways
Install grab bars in bathtubs and showers and beside toilets
Get a shower bench or chair, and install a raised toilet seat
Place a non-slip rubber mat in the tub
Move frequently used items to easy-to-reach locations that don't require climbing or stepping up
Repair broken steps, walkways, pavement, etc.
Use lights or contrasting paint along outdoor walkways and steps for better nighttime visibility
Keep entrances and walkways clear of snow and ice
For more guidance and support, consider consulting an occupational therapist, who can assess the safety of your home or your senior loved one's home. An occupational therapist will also help you address any safety issues, as well as recommend safety aids and assistive devices that can improve mobility and independence.
Additional resources
Fall prevention at home: Canada Safety Council
Home safety for seniors: Bayshore HealthCare
Bone health: Osteoporosis Canada
Healthy eating: Canada's Food Guide