Fitness for Life: Staying Active for Healthy Aging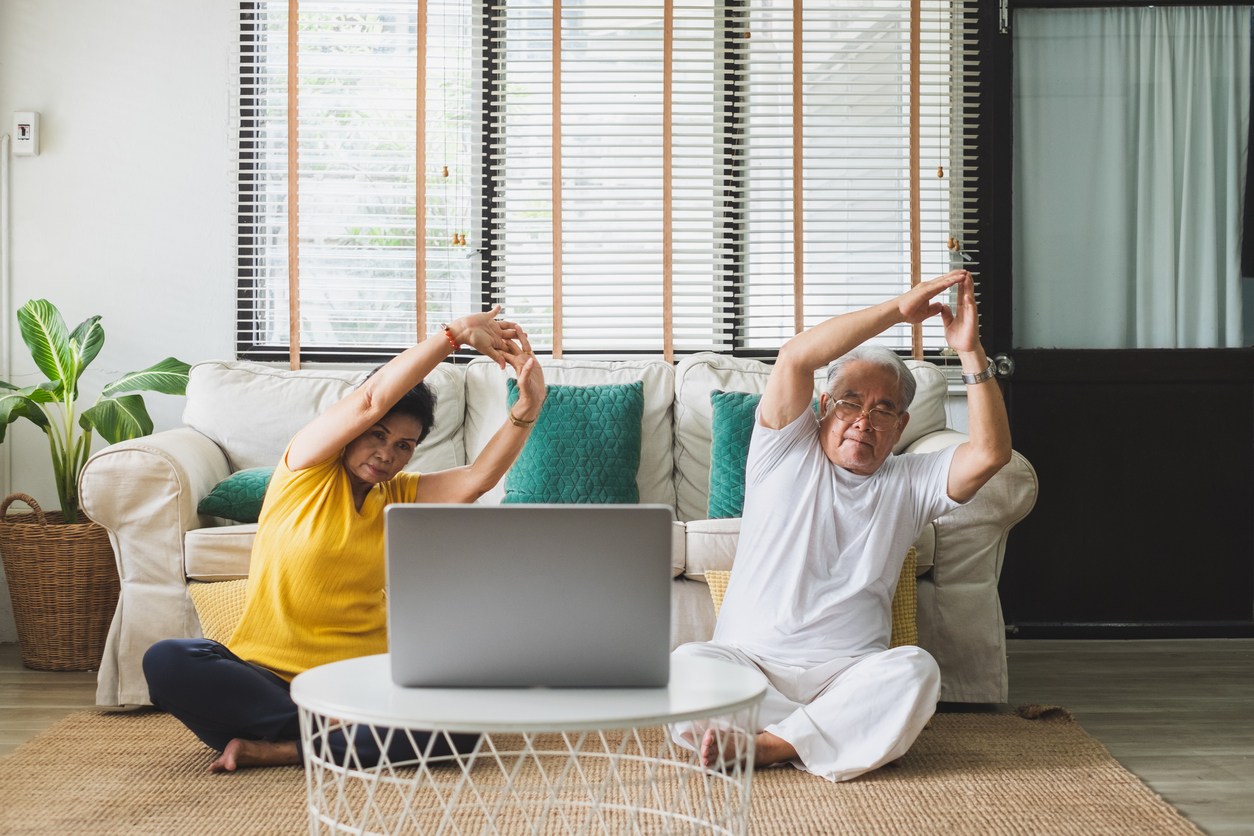 Are outdated beliefs about older adults and physical activity preventing you or a senior loved one from exercising enough?
Before you answer, let's consider how much exercise older adults should do: 150 minutes (2.5 hours) of moderate- to vigorous-intensity aerobic exercise each week. Also recommended: muscle strengthening activities at least twice a week, several hours of light physical activities (including standing) and physical activities that improve balance. Except for that last item, the recommendations are the same for adults aged 18 to 64. That's right: older adults, with the exception of those living with a disability or medical condition, should exercise just as much as younger ones.
That's what you'll find in Canada's new 24-Hour Movement Guidelines, released in October. Based on scientific evidence from around the world, the guidelines provide recommendations on the optimal amounts of physical activity, sedentary behaviour and sleep. The guidelines were developed by the Canadian Society for Exercise Physiology, the Public Health Agency of Canada, ParticipACTION, Queen's University and other researchers and stakeholders across the country, with funding from the federal government.
The new guidelines couldn't have come at a better time. Even before the COVID-19 pandemic, just 16% of adults aged 18 to 79 met the recommendations in the older Canadian Physical Activity Guidelines, and people aged 65 and older were the least active of all. During the pandemic, many Canadians have found it even harder to exercise, with the ongoing need for physical distancing and the closure of gyms, pools and recreational facilities.
Ageism in fitness
Do the exercise recommendations for older adults surprise you? Most of us equate aging with an inevitable decline in physical abilities. It's true that aerobic capacity, muscle mass and bone density tend to decrease with age, but regular exercise is the key to slowing down these and other physical changes.
In an article for The Montreal Gazette published in August, fitness columnist Jill Barker called attention to the problem of ageism in fitness. She noted that fitness instructors, health-care professionals, family members and older adults themselves often have the attitude or belief that age is a barrier to being physically active, or that only certain types of exercise are appropriate.
Why is it important to debunk stereotypes around fitness and older adults? Regular exercise offers many physical and mental health benefits. Following the recommendations in the 24-Hour Movement Guidelines is associated with:
Lower risk of mortality, cardiovascular disease, hypertension, type 2 diabetes, several cancers, anxiety, depression, dementia, weight gain, adverse blood lipid profile, falls and fall-related injuries
Improved bone health, cognition, quality of life and physical function
It's never too late to start exercising and seeing positive effects. As the guidelines say, "The benefits of following these Guidelines far exceed potential harms. Following these Guidelines may be challenging at times; progressing towards any of the Guideline targets will result in some health benefits."
Exercising at home
To stay active during the pandemic and throughout winter, consider creating a home gym. You can do body-weight exercises (push-ups, squats, lunges, etc.) or buy inexpensive fitness equipment, such as resistance bands, dumbbells, medicine balls and a yoga mat.
You can stream workout videos (you'll find thousands on YouTube) or follow along with workout apps and online classes, which have exploded in popularity during the pandemic. If you have a bigger budget to work with, consider investing in a treadmill, elliptical machine, rowing machine or stationary bicycle.
It's also a good idea to go outside this winter, if you can do so safely and the weather isn't too harsh. Research has shown that people who spend time in nature experience lower blood pressure, reduced levels of stress hormones, stronger immunity and less anxiety, as well as improved concentration, short-term memory, energy, mood and sleep.
Additional resources
A helpful and encouraging guide for older adults, with examples of exercises to improve strength, balance, endurance and flexibility.
Aging Well, Even During COVID-19 (Psychology Today)
A doctor shares advice on nurturing your body and spirit, stimulating your intellect and managing your emotions during the pandemic.
This non-profit organization supports lifelong healthy active aging through participation, education, research and promotion.
Tips for exercise and healthier aging, from ParticipACTION. The organization also offers a free app (for iOS and Android devices) with workout videos, motivational content and more.
Toolbox to success: How to create your own home gym for under $100 (Abilities)
A personal trainer shares tips on what gear to get for effective home workouts.
Winter safety tips for seniors (Bayshore HealthCare)
Before starting or modifying your fitness routine, consult your physician.
Bayshore Home Health offers a wide range of home care services to help Canadians live independently for as long as possible. Contact us at 1-877-289-3997 for details.