What's New?
NRIO offers a number of individual, group and virtual programs for adults, adolescents and children.
Our Etobicoke Therapy Clinic offers in-person Occupational and Physiotherapy sessions. Learn more
The Bayshore Integrated Care Solutions NRIO (ICS-NRIO) Group Program, directed by an Occupational Therapist, is where clients come to learn new skills, socialize with their peers (other ABI survivors) and have fun. Clients will be provided with opportunities to practice coping skills and leadership abilities, gain greater insight into their brain injury, and share strategies with others.​
Our School Resource Services (SRS) are designed for young people suffering the effects of an acquired brain injury at the elementary, secondary, college or university levels. Learn more about our virtual school resource services.
Residential treatment options, supported-living apartments, clinic-based therapy, group programming, community programs (coma stimulation, teachers), youth programs, multi/interdisciplinary therapists, teachers and more. To learn about NRIO's work, we talked to Frank Tenuta, Clinical Director, and Melanie Hay, Senior Occupational Therapist.
In 2020, Collen Boyce, Director of Bayshore Therapy & Rehab, NRIO was recognized as the Health Care Provider of the Year by the Ontario Brain Injury Association and PIA Law.
On Oct 25th, 2017  BTR Residential Services/NRIO was named 'Rehab Company of the Year' by Ontario Brain Injury Association. Read the full Press Release here.
BTR Residential Services/NRIO was selected by Lerner's to the top 10 brain injury rehabilitation hospitals in the Toronto and Ontario region. Click here to read the Lerner's article.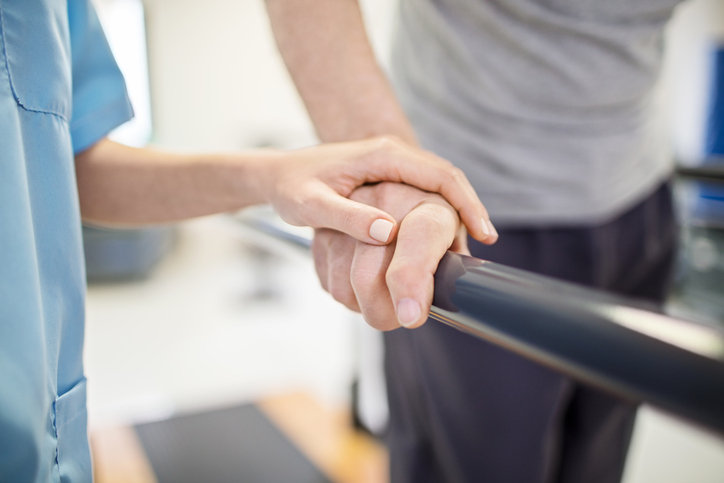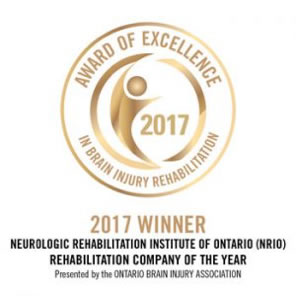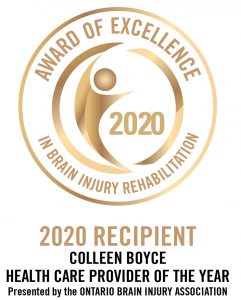 A workplace accident
A workplace accident left their son with a catastrophic brain injury, Bayshore helped rehabilitate him so he could go home
Our son, JC, suffered a catastrophic brain injury as a result of a workplace accident. It was the beginning of a traumatic and difficult journey for him and ourselves, as parents. In his early thirties, it was shocking and so stressful to cope with the situation our son was in. Luckily, Residential Rehab was recommended to us for follow up. We spoke to Colleen, the Director, who was not only supportive and easy to talk to, but experienced and knowledgeable about the path ahead for JC. She clearly described the approach they would take and predicted prognosis after a stay in the residential program … accurately as in turns out. Read More
An inspiration to many
Cameron O'Hanley – an inspiration to many
Cameron O'Hanley, a promising soccer star and high school student living in Prince Edward Island (PEI), suffered serious injuries after a car accident.  He came to the Residential Rehab program for a multi-disciplinary, intensive, 6 month brain injury programme including attending school. He is an inspiration to those who have gone through a difficult recovery period. See more.
A motor vehicle accident
A terrible motor vehicle accident leads to help to recovery from NRIO
Our son was involved in a catastrophic MVA in Alberta when he was 24 years old. Diagnosed with TBI and associated quadriplegia he remained comatose for an extended period of time. After repatriation to Ontario he was admitted to the Mississauga residence, and upon his arrival he was clinically "vegetative." Today, four years later, due entirely to the dedication, care and compassion of his entire Residential Rehab team, SM has progressed to a "conscious" state and continues to improve at a cognitive level. Read more.
For more information
Call us at 1 800 561 9158 / 416 231 4358 ext. 37122
or Email: info@nrio.ca
My husband AH suffered from traumatic brain injury in 2004 after being hit by a car. When his case settled with the insurance company in 2008, we were looking for a place where he could do long term physiotherapy. Our doctor gave us a few names, but we chose NRIO as it is relatively close to home. We are however very happy with our choice, as we found the staff at NRIO very friendly, helpful and knowledgeable. When AH arrived at NRIO, he could hardly sit straight in his wheelchair. After working with a very personable physiotherapist, he is able to walk with a cane. We are very grateful to have found NRIO.
-PH-