Bayshore Home Health – Durham Region, ON
1615 Dundas Street East Unit 202A, Whitby Mall
Whitby, ON L1N 2L1
Contact Details:
Tel: (905) 433-4002
Toll Free: 1-877-433-4003
Area Director: Gennifer Doucette
Care Manager: Jackline Hussein
Services are available 24 hours a day, 7 days a week
Our services include:
Personal Care Services
Medical Services
Dementia Care Services
Employee Appreciation Event
To say these past sixteen months have been a challenge would be an understatement. Collectively we battled the unknown and faced many challenges both personally and professionally. The resilience and compassion shown by our team has been truly amazing. While our client's needs increased, our staff stepped up, often going above and beyond to ensure our client's care needs were met. We are grateful for this amazing team of admin, caregivers, and nursing staff and wanted to show our appreciation. Working with local businesses we curated a special gift to say thank you. Over the past week, we had the pleasure of surprising staff, at home, or while working in the community to present them with their gift. I am grateful to the Senior Leadership Team at Bayshore HealthCare for supporting this initiative and thank our local businesses for their support.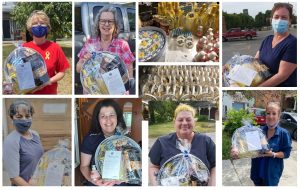 Read more about our team here
Meet our team
At Bayshore Home Health, we want to provide the best home care for you or your loved ones – with less stress and worry. Our Oshawa branch is here to look after all your home care needs.
Gennifer Doucette, Area Director and Jackline Hussein, Care Manager are an integral part of the Bayshore care team who will help assess your needs, provide personalized care plans and offer support in navigating the healthcare system.
Job Postings
We are hiring!
Bayshore Home Health is looking for
• Housekeepers
• Personal Caregivers
• Registered Practical Nurses (RPNs)
• Registered Practical Nurses (RPN) – Pediatrics
• Registered Practical Nurses (RPN) – Wound Care Specialist
• Registered Nurses – Community
• Registered Nurses – Infusion Clinic
• ** NEW GRADS WELCOME**
We offer a flexible schedule, a competitive wage, benefits, PPE for you and your clients, fantastic mentoring and training opportunities. Work in your local geographic area! We service Ajax, Pickering, Whitby, Oshawa, Clarington, Port Perry, Uxbridge, Cannington, Lindsay, Fenelon Falls, Peterborough, Port Hope, Cobourg, Trenton, Belleville and surrounding areas.
Working in Home Care, allows you the opportunity to build rapport with your clients and enhance their quality of life – if you are compassionate and reliable we would love to hear from you. Please send your resume to durhamrecruiting@bayshore.ca
Giving Back
The Legion National Foundation
The Legion National Foundation honors those who served or continue to serve, in the Canadian Armed Forces (CAF) and the Royal Canadian Mounted Police (RCMP) through the financial support of remembrance programs and scholarships of CAF and RCMP families.
Each Bayshore branch gives back to the local community by supporting a local charity partner through the Bayshore Foundation for Empowered Living. The Bayshore Foundation helps Canadians who are experiencing aging, illness, or injury to take control of their independence. Every dollar raised in a community stays in that community. All donations from individual donors will be matched 50% by the Bayshore Foundation.