Bayshore Home Health – Halifax, NS
Services are available 24 hours a day, 7 days a week
Our services include:
Personal Care Services
Medical Services
Dementia Care Services
Also at this location:
Infusion Clinic, Help with grocery shopping and errands, Escort to appointments and outings, Post-surgical care, In-hospital observational care
Meet our team
At Bayshore Home Health, we want to provide the best home care for you or your loves ones – with less stress and worry. Our Halifax branch is here to look after all your home care needs.
Allan Chalmers, Area Director and Elaine Hatcher, Care Manager, are an integral part of the Bayshore care team who will assess your needs, provide personalized care plans and offer support in navigating the healthcare system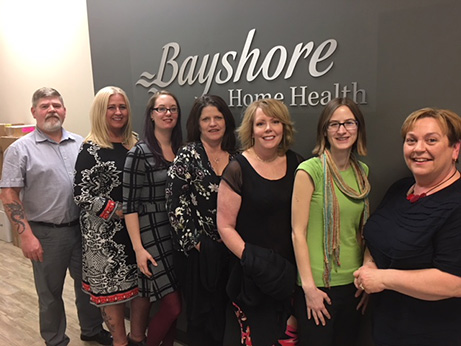 Job Postings
We are Hiring!
Bayshore Home Health is looking for caregivers, RNs and RPNs. We offer flexible hours, a competitive wage, benefits and training. Send your resume to jobs@bayshore.ca
My caregiver is a very caring, thorough person who is very attentive, encouraging and well trained. She was the only caregiver who washed my back and legs as part of my shower. She noticed a mole on my back and suggested that I let my doctor know at my next appointment. When I saw my doctor, he said I was lucky my caregiver made that suggestion as it was melanoma and was spreading quickly. My caregiver takes her role very seriously, for which I am thankful. She is a special person with a caring nature and encouraging manner.
S. Homer
Lower Sackville, NS
About this location
At Bayshore Nova Scotia we understand that leaving home can be a challenge and that staying at home is the best option for a lot of older adults. As your neighborhood care provider, we are here to support you and your family through every step of the care process. Offering personalized, affordable support from bonded caregivers that are qualified to meet your specific needs. Conveniently located in Bayers Road resides our Central Home Care Office, Clinic and Pharmacy. Complimented by our newest location in Sydney Cape Breton, our offices are our family and all our clients become a part of our family! We are here to serve our local communities and our passion is ensuring our community receives the best care possible.
We are proud to serve communities throughout Nova Scotia, coordinated from Halifax and Sydney, we have carers throughout the province to suit your unique and individual needs.
About Bayshore
Bayshore HealthCare is one of the country's leading providers of home and community healthcare services and is a Canadian-owned company. With over 100 locations across the country, including 65 home care offices, 13 pharmacies and infusion clinics, Bayshore has more than 13,000 staff members and provides care to over 350,000 clients.
Learn More