Bayshore Home Health – Halifax, NS
Services are available 24 hours a day, 7 days a week
Our services include:
Personal Care Services
Medical Services
Dementia Care Services
Also at this location:
Infusion Clinic, Help with grocery shopping and errands, Escort to appointments and outings, Post-surgical care, In-hospital observational care
Past Events
Bayshore Home Health Halifax had their first free Wellness Clinic at The Halifax Shopping Centre today. The Bayshore team and 5 volunteer nurses catered to a total of 23 clients. The Wellness Clinic provided the following health services: BP Check, Glucose Pre-screening and Health Education (Stroke, Heart Attack, Diabetes and Wellness). Thank you, Halifax!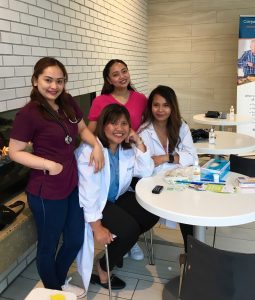 Meet our team
At Bayshore Home Health, we want to provide the best home care for you or your loves ones – with less stress and worry. Our Halifax branch is here to look after all your home care needs.
Angel Griffin, Area Director and Elaine Hatcher, Care Manager, is an integral part of the Bayshore care team who will assess your needs, provide personalized care plans and offer support in navigating the healthcare system
Job Postings
We are Hiring!
Bayshore Home Health is looking for caregivers, RNs and RPNs. We offer flexible hours, a competitive wage, benefits and training. Send your resume to jobs@bayshore.ca
Giving Back
Our Local Charity Partner:
Spencer House Seniors Centre
Spencer House Seniors' Center provides services and programs to enable older adults to live independently, contribute to their community and maintain an active and healthy lifestyle.
Each Bayshore branch gives back to the local community by supporting a local charity partner through the Bayshore Foundation for Empowered Living. The Bayshore Foundation helps Canadians who are experiencing aging, illness or injury to take control of their independence. Every dollar raised in a community stays in that community. All donations from individual donors will be match 50% by the Bayshore Foundation.
It is now a little over a year that we have been clients of Bayshore Home Health. We are writing to express our sincere and heartfelt gratitude to all the staff at Bayshore who have made this year possible. Despite some earlier shared missteps, we wish to acknowledge the hard work and care that Bayshore provides, and to say how very much we appreciate this service and all the people who work at Bayshore to make this possible. We must also thank the remarkable ladies who at present are part of our team. Each one plays a valuable role in providing respite, comfort and security to us in our home. Their level of concern and reliability helps to improve our sense of health and wellbeing. We know this takes a lot of work in the office and we applaud and thank all the staff for their efforts on our behalf. We feel well looked after. A heartfelt thank you to one and all.
Sincerely,
Laraine and John Chaplin
About this location
At Bayshore Nova Scotia we understand that leaving home can be a challenge and that staying at home is the best option for a lot of older adults. As your neighborhood care provider, we are here to support you and your family through every step of the care process. Offering personalized, affordable support from bonded caregivers that are qualified to meet your specific needs. Conveniently located in Bayers Road resides our Central Home Care Office, Clinic and Pharmacy. Complimented by our newest location in Sydney Cape Breton, our offices are our family and all our clients become a part of our family! We are here to serve our local communities and our passion is ensuring our community receives the best care possible.
We are proud to serve communities throughout Nova Scotia, coordinated from Halifax and Sydney, we have carers throughout the province to suit your unique and individual needs.
About Bayshore
Bayshore HealthCare is one of the country's leading providers of home and community healthcare services and is a Canadian-owned company. With over 100 locations across the country, including 65 home care offices, 13 pharmacies and 90+ clinics, Bayshore has more than 13,500 staff members and provides care to over 350,000 clients.
Learn More