Bayshore Home Health – St. Catharines, ON
Services are available 24 hours a day, 7 days a week
Our services include:
Personal Care Services
Medical Services
Dementia Care Services
Also at this location:
Infusion Clinic, Help with grocery shopping and errands, Post surgical care, In-hospital observational care
Niagara Private Branch appreciated its' employees by celebrating the holiday season at distance by arraigning take-out meals and gifts for their employees. Once again, Bayshore Niagara Private branch wants to thank each and every one of its team members (Field employees as well as Admin employees) for their dedication to the branch and the clients in keeping them safe and providing the much needed care especially during this difficult time of the pandemic.
A big thank you to the restaurant "The Indian Kitchen Aroma" for cooking the delicious meal and handling a large number of take out safely.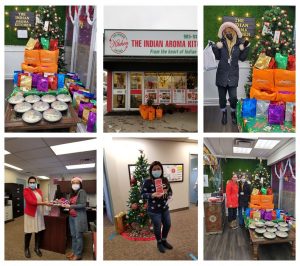 Meet our team
At Bayshore Home Health, we want to provide the best home care for you or your loved ones – with less stress and worry. Our Niagara branch is here to look after all your home care needs. Our care team including Poonam Singh, Area Director will assess your needs, provide personalized care plans and offer support in navigating the healthcare system.
Job Postings
We are Hiring!
Bayshore Home Health is looking for caregivers, RNs and RPNs. We offer flexible hours, a competitive wage, benefits and training. Send your resume to jobs@bayshore.ca
Giving Back
Our Local Charity Partner:
The Powerhouse Project
The Young Carers Initiative (YCI) is an agency with a mission to promote the well-being of Young Carers, their families and their community partners. Powerhouse Project is a program developed by YCI that has established two centres to meet the needs of Young Carers and their families in the Niagara and Haldimand-Norfolk Regions.
Each Bayshore branch gives back to the local community by supporting a local charity partner through the Bayshore Foundation for Empowered Living. The Bayshore Foundation helps Canadians who are experiencing aging, illness or injury to take control of their independence. Every dollar raised in a community stays in that community. All donations from individual donors will be match 50% by the Bayshore Foundation.
"Bayshore has gone over and above to make myself, my spouse and my family feel loved and cared for."
My mom is still in the hospital, unfortunately, she is not capable of returning home - and she may be moving from there to The Heatherwood, but we're still not sure. Thank you so much for all you've done. It's been invaluable. You'd be the first I'd call if we need help in the future. You guys are so awesome.
-Janet, client's daughter
The exceptional care that Bayshore provided my mom over the past few years truly gave my mom her life back. There is no question that she would not be where she is today without that care - so thank you!
-Doug, client's son
About this location
Nestled in the beautiful downtown core of the Niagara Region, in the heart of St. Catharines, Bayshore Niagara understands that leaving home can be a challenge and that staying at home is the best option for a lot of older adults. Bayshore Niagara provides care to clients of all ages with the same dignity and compassion. As your neighborhood care provider, we are here to support you and your family through every step of the care process. Offering personalized, affordable support from bonded caregivers that are qualified to meet your specific needs.
The Niagara Home Health branch serves the areas of St Catharines, Thorold, Niagara Falls, Welland, Fonthill, Pelham, Ridgeville, Fenwick, Port Colborne, Wainfleet, Fort Erie, Stevensville, Crystal Beach, Ridgeway, Grimsby, Beamsville, Vineland, Lincoln and West Lincoln.
About Bayshore
Bayshore HealthCare is one of the country's leading providers of home and community healthcare services and is a Canadian-owned company. With over 100 locations across the country, including 65 home care offices, 13 pharmacies and 90+ clinics, Bayshore has more than 13,500 staff members and provides care to over 350,000 clients.
Learn More