Planning for Myself and My Family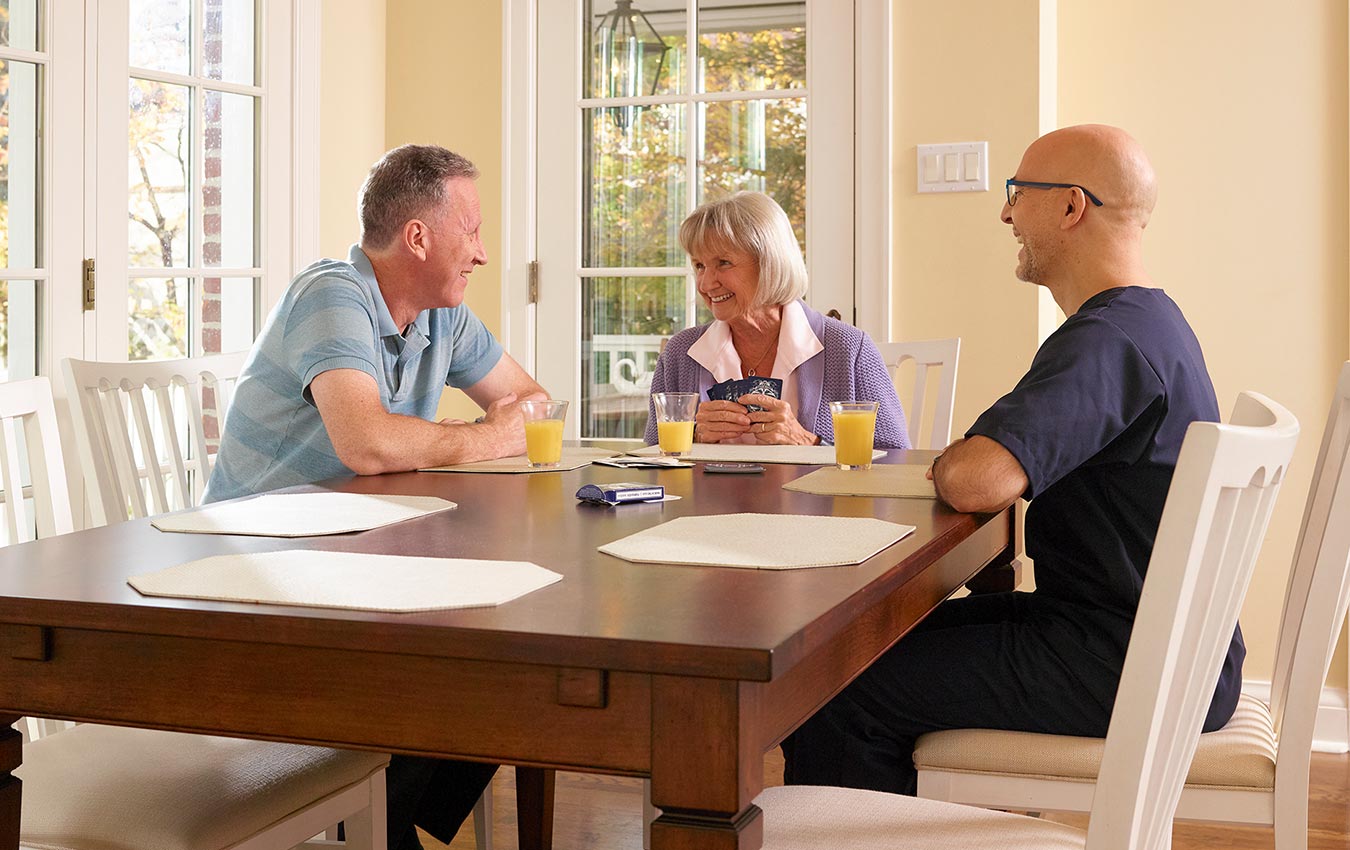 Consider your options early so when care is necessary, a plan is already in place.
Home is still the most preferred place for most seniors, surrounded by family and their own traditions.
The UN reports that the proportion of persons aged 60 and over is expected to double between 2007 and 2050, and their actual number will more than triple, reaching 2 billion by 2050. While this is a staggering number, government, businesses, and communities are anticipating this growth and in response are providing more options and supports for the aging population.
Whether you are approaching your golden years or if you care for a parent or other family member who is aging, begin considering your options early so when care is necessary, a plan is already in place. This will allow you to choose the most appropriate course of action for you and your family. There will be transitions but they do not have to be disruptive. Making changes before needs become urgent allows seniors to age gracefully and peacefully. Don't wait for an accident or health crisis before you consider your loved one's changing needs.
Aging at home, or "aging in place" as it is becoming commonly called, is a viable option for many seniors. Aging typically accompanies a decline in both mental and physical health resulting in the loss of complete independence. However, this does not mean it is time to move to an assisted living facility or a nursing home. While these places can make some things easier, such as meal preparation, they also come with several disadvantages, including less independence and financial expense.
Aging in place, or staying in one's home while getting older, is a worthy consideration that provides numerous benefits:
Honouring Dignity and Independence
Being able to stay at home and maintain independence to the extent possible is important for most seniors. According to a 2013 Royal Bank of Canada survey, nearly 90% of seniors want to age-in-place. Living at home allows seniors the freedom to maintain their independence longer and not have to follow a mealtime or activity schedule. The home setting is the "least restrictive environment," allowing older adults to stay engaged with their normal daily activities, including regular interaction and companionship with family and community. It allows for more choices and encourages active participation in their own lives.
Quality of Life
Aging at home extends and improves overall quality of life by postponing institutionalization and preventing premature decline. By encouraging independence and self-care, aging parents stay in charge of their own lives for as long as possible. They report high rates of personal satisfaction and unlike other forms of health care, in-home care helps extend life by eliminating stressors associated with aging in a senior care facility. Choosing in-home aging can enrich the quality of our loved one's later years.
Personalized Care
Utilizing home care assistance provides peace of mind that your loved one has the essential care they need based on their unique needs. Personalized home care assists in maintaining health and offering individualized services based on preferences and individual needs. By definition, home care assistance is one-on-one. Sharing the caregiving responsibility is integral in preventing caregiver fatigue while also offering your loved one companionship when you aren't able to be there.
Home care assistance is generally provided by home health aides, licensed caregivers, nurses, social workers, therapists, friends, family, and neighbors. Knowing your loved one is in the safe, therapeutic environment of their own home helps reduce feelings of guilt associated with caregiver burden.
Reduce the Risk of Illness and Fast Recovery
Contagious illnesses such as cold and flu spread quickly in assisted living facilities where there are a large number of residents sharing space. In contrast, aging at home lowers risks of catching these illnesses. Being in a familiar environment reduces stress and allows for the best support for healing both mind and body. In-home recovery has been shown to expedite healing – demonstrating older adults heal more quickly at home versus in a hospital or nursing home setting. There is also significantly less chance of re-hospitalization when recuperation is at home. (Avalere Study 2008)
Enjoy Companionship with Loved Ones
Assisted living facilities have visitation rules dictating the frequency and length of visits. Seniors who choose to age in their home environment are allowed the freedom to see friends and family at their discretion. Isolation can occur even within a senior living home. When this happens, the isolation is more difficult to identify given the group setting. The ability to have visitors for extended periods of time and as often as desired is an important advantage. Socialization is a major part of staying happy and healthy while getting older.
Minimize Change and Stressors
Aging in place allows seniors to maintain their usual routines, rather than having to make changes, such as eating at certain times and being surrounded by new people. Having to make adjustments to one's daily life can be very stressful and upsetting for seniors. Those who choose to age in place often just need to put supports in place, such as home modifications and meal preparation assistance, in order to continue their normal routines.
If you find that you could use additional support with your care and daily activities, explore home care options from trusted providers.
While choosing a quality home healthcare provider can be confusing and time-consuming, we can save you considerable time and effort by not only providing you with the questions you need to be asking but by also letting you know that you want to hear 'yes' as the answer to each and every question.
Do you provide a personalized care plan, highlighting the specific duties my caregiver will perform?
Will you consult regularly with my doctor or family members regarding my care plan, if I wish?
Will my caregiver be supervised by a nurse?
Do you provide a complete list of the services you provide as well as their prices?
Will you assist me in investigating funding options for my care?
Will you help me submit my claims to my insurance company?
Do you have a Quality Assurance method or program?
Do you provide all financial arrangements in writing, with a copy for me?
Do you provide services and answer calls 24 hours a day, 7 days a week?
Do you ensure that your staff are bonded, insured and professionally licensed or certified?
Do you pay CPP, EI and Workers' Compensation for the staff that come to my home?
Will you ensure my caregiver matches my needs, and provide a replacement if they do not?
If you want to save even more time, know that Bayshore Home Health answers 'yes' to every one of those questions.
We offer a wide range of Home Care Services including personal care, companionship, meal preparation, medication reminder, housekeeping, dementia care and fall prevention. Should you or a loved one require additional care after an illness, injury, surgery or hospitalization, we offer clinical home care solutions including nursing, serious injury care, wound care, palliative care, medical assistance in dying, physiotherapy and occupational therapy.
For detailed descriptions of our services, click here.