Bayshore Home Health – Calgary, AB
Services are available 24 hours a day, 7 days a week
Our services include:
Personal Care Services
Medical Services
Dementia Care Services
Also at this location:
Infusion Clinic
Bayshore Together
Big thanks to our healthcare heroes in Calgary! Bayshore office delivered, surprised and thanked our caregivers with special gifts for their outstanding work and sacrifices made throughout this past year. While it has been challenging the Calgary team went over and above wearing multiple hats, caring for their in-home clients, COVID support staffing for multiple organizations and still had time to volunteer for organizations in the community. Thank you for all your hard work Calgary!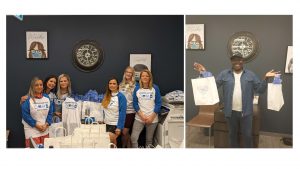 Read about our full team here
Meet our team
At Bayshore Home Health, we want to provide the best home care for you or your loved ones – with less stress and worry. Our Calgary branch is here to look after all your home care needs.
Ginger Boviz, Area Director and Care Manager, Alexander Cook are integral parts of the Bayshore care team who will assess your needs, provide personalized care plans and offer support in navigating the healthcare system.
Job Postings
We are Hiring!
Bayshore Home Health is looking for caregivers, RNs and RPNs. We offer flexible hours, a competitive wage, benefits and training. Send your resume to jobs@bayshore.ca
Giving Back
Our Local Charity Partner:
Children's Link
Children's Link offers resources, information, and support to families and professionals who care for and serve children with disabilities. Children's Link is staffed by a dedicated team, many of whom have lived experience with disability. By offering parental support, empowering workshops, community-building opportunities, and resources, Children's Link provides a safe, affirming environment for people to learn, share and connect.
Each Bayshore branch gives back to the local community by supporting a local charity partner through the Bayshore Foundation for Empowered Living. The Bayshore Foundation helps Canadians who are experiencing aging, illness or injury to take control of their independence. Every dollar raised in a community stays in that community. All donations from individual donors will be match 50% by the Bayshore Foundation.